Welcome to Sparkreations!
Enjoy your journey perusing the artist's creations.
(As you browse the website, hover your mouse over the photographs for additional information.
Love is in the air — and is expressed in this design, featuring lucky "love" fortunes, spilling out of an origami Chinese box.  Underneath are multiple layers of paper, each one a different texture and most handmade by the artist.  Please take a peek at her other origami designs.
This piece began with a longing for the bright, saturated color that comes with the approaching warmer months.  The butterfly is crafted from vellum paper that the artist hand-colored and with wire that she formed.  Please take a peek at her other origami designs.
Hand-marbled and holographic papers make up this butterfly, featuring a double iris fold layout.  Follow the link to view more iris fold designs.
Springtime was the inspiration for the subject and colors in this piece.  The basket looks woven but is actually formed by combining multiple separate elements.  The entire work was made employing the very old technique of quilling which involves manipulating very narrow strips of paper into individual elements then combining those elements to form a particular design.


Photographs cannot do justice to these artful creations.  Each individual glass box is hand-colored by the artist, making no two exactly alike.  Filled with white lights, they uniquely illuminate any space, adding spectacular ambiance.  Many colors are available for your custom design.  Check out more glass light boxes.
The inspiration for this piece came from the celebrations commemorating the 50th anniversary of the Beatles' appearance on the Ed Sullivan Show.  The whimsical G clef is filled with dozens of tiny quilled paper elements and is set atop the music for their hit song, "I'm Happy Just to Dance with You."  Check out more pieces of artwork featuring quilling.
The quote in the background (hover mouse to see) is from "Brought to My Senses," a favorite song by Sting. The imagery is the expression of a Mandelbrot set reconfigured by the artist as a kaleidoscope.
Sparkreations Non-Profit Partnership Program
Sparkreations is delighted to continue the artist's lifelong career in non-profit work.  A portion of its profits will be donated to support the work of non-profit organizations of the artist's choosing. The specific recipients will change periodically.  The current recipient is StandUp for Kids, whose mission is to help homeless and street kids, through the efforts of volunteers who do street outreach in order to find, stabilize and otherwise help them improve their lives.  The proceeds will directly benefit those served by the Worcester, Massachusetts program.  Please click on their logo to find out more about the vital work that StandUp for Kids is doing to help at risk kids in your community.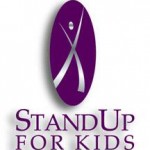 Art Galleries
Sparkreations artwork has been sold to collectors as far away as Australia.  These beautiful galleries in the U.S., have featured the fine artwork of Sparkreations as well as the creations of other talented artists:
Bella Luce Art Cafe
Celebrations!
Wachusett Artist Emporium
Art Instruction
In addition to private individual and group instruction, the artist has taught classes for:
libraries
art and craft store studios
community centers